Our Products
Polyacrylamide /
PHPA anionic polyacrylamide(HS:390690)used for water treatment and mining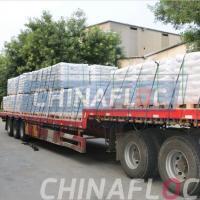 Performance characteristics:
1, polyacrylamide molecules have positive genes, strong flocculation ability, less dosage, treatment effect is obvious.
2. With good solubility and high activity, the alum formed by condensation in water body is big, and the sedimentation is fast. The purification capacity is 2-3 times larger than that of other water-soluble polymers. 3, strong adaptability by water PH value and temperature influence is small, raw water purification to meet the national reference water standards, after treatment of suspended particles in water to achieve the purpose of flocculation and clarification, conducive to ion exchange treatment and the preparation of high purity water.
4, corrosion is small, easy to operate, can improve the labor intensity and working conditions of the dosing process.
Polyacrylamide application range
Polyacrylamide molecules have positive genes (-CONH2), which can absorb and bridge suspended particles scattered in the solution. It has a strong flocculation effect, which can accelerate the sedimentation of particles in the suspension, and has a very obvious effect of speeding up the clarification of the solution and promoting filtration. So widely used in water treatment and power, mining, coal preparation, asbestos products, petrochemical, paper making, textile, sugar, medicine, environmental protection and so on.
1, as flocculating agent, mainly used in industrial solid-liquid separation process, including settlement, clarification, concentration and sludge dewatering technology, application of the main industries are: urban sewage treatment, paper industry, food processing, petrochemical industry, metallurgical industry, processing industry, dyeing industry and sugar industry and all kinds of industrial wastewater treatment. Used in urban sewage and meat, poultry, food processing wastewater treatment process of sludge precipitation and sludge dewatering by its organic colloid electrical group of sludge negative charge neutralization and excellent polymer bridging coagulation function, prompting colloid particles gathered into large pieces of floc, separated from the slurry. The effect is obvious and the dosage is small.
2, in the paper industry can be used as paper dry strength agent, retention agent, filter agent, can greatly improve the quality of paper, cost saving, improve the production capacity of paper mill. Can directly and inorganic salt ions, fibers and other organic polymers electrostatic bridge effect to enhance the physical strength of the paper, reduce the loss of fiber or filler, speed up water filtration, enhance, help to stay, help to filter, can also be used for white water treatment, at the same time, in the process of deinking can play a significant flocculation effect.
3, fiber mud (asbestos-cement products) can make the forming of asbestos-cement products drainage is improved, so that the strength of asbestos slab is improved; In the insulation board, the combination of additive and fiber can be improved.
4, in mining, coal preparation industry can be used as mine wastewater, coal washing wastewater clarification agent.
5, can be used for dyeing wastewater, leather wastewater, oily wastewater treatment, turbidity removal, decolorization, in order to meet the discharge standard.
6. In the purification of phosphoric acid, it is helpful to the separation of gypsum in the wet phosphoric acid process.
7. Flocculant for water treatment in waterworks with river water sources.
Usage and precautions:
1. The solution of 0.2% concentration is suitable for neutral water without salt.
2. Because the product is applicable to a wide range of water PH value, the general dosage is 0.1-10ppm (0.1-10mg/L).
3. Fully dissolved. When the water is dissolved, it is required to stir it fully and then slowly and evenly add powder to prevent blocking pipes and pumps caused by large flocs and fish-eye phenomenon.
4. Stirring speed is generally 200 RPM is appropriate, the time is not less than 60 minutes, appropriately raise the water temperature 20-30 degrees Celsius, can accelerate the dissolution. The maximum temperature of liquid medicine should be less than 60 degrees.
5. Determine the optimal dosage. Determine the optimal dosage through experiments before use. Because the dosage is too low, does not work, the dosage is too high, but has the opposite effect, more than a certain concentration, PAM not only does not flocculate, but dispersing and stable use.
6. The product should be stored in a cool, dry place to prevent moisture.
7. The work place should be washed frequently and kept clean. Due to its large viscosity, scattered underground PAM water surface smooth, prevent operators from slipping caused safety accidents.
8. The product is lined with plastic bags, the outer plastic film woven bag, each bag 25Kg.
Physical properties and use characteristics
1. Physical properties: Molecular formula (CH2CHCONH2) R
PAM is a linear polymer, it is easily soluble in water, almost insoluble in benzene, ethylbenzene, esters, acetone and other general organic solvents, its aqueous solution almost transparent viscous liquid, is a non-hazardous, non-toxic, non-corrosive, solid PAM has hygroscopic, hygroscopic with the increase of ionic degree and increase, PAM thermal stability; Stability is good when heated to 100°C, but decomposition is easy above 150°C to produce nitrogen, which is insoluble in water due to intermolecular imination. Density (g) mL 23°C 1.302. At glassing temperature of 153°C, PAM exhibits non-Newtonian fluidity under stress.
2. Use features
Flocculation: PAM can make suspended material through electric neutralization, bridge adsorption, flocculation.
Adhesion: through mechanical, physical, chemical action, play the role of adhesion.
Resistance reduction: PAM can effectively reduce fluid friction resistance, adding trace PAM in water can reduce resistance by 50-80%.
Thickening: PAM has thickening effect under neutral and acidic conditions. When PH value is above 10°C, PAM is easy to hydrolyze and presents a semi-reticular structure, the thickening will be more obvious.
The selection of flocculant must fully consider the requirements of technology and equipment.
② The strength of flocs can be improved by increasing the molecular weight of flocs.
③ The charge value of flocculant must be screened by experiment.
④ Climate change (temperature) affects the selection of flocculant.
⑤ Choose the molecular weight of flocculant according to the size of flocs required by the treatment process.
⑥ Before treatment, the flocculant must be fully mixed and dissolved with the sludge.