Our Products
Polyacrylamide /
The main application of anionic polyacrylamide (AN905 AN913 AN923)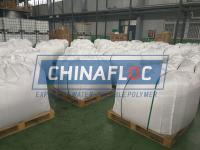 The main application of anionic polyacrylamide (AN905 AN913 AN923)
Acrylamide and propylene copolymerization, is a water-soluble linear polymer flocculant, by neutralizing the charge on the surface of suspended particles in water to promote particle flocculation, so as to make the particles in the water destabilize, after the destabilization of particles in the polymer active gene bridging action adsorbed each other, and eventually form a larger flocculant.
Product features
1, flocs close, less dosage.
2. High clarity of water after treatment.
3, PH value is widely applicable.
4. Filtration and dewatering improve the dehydration effect of sludge.
5. Good compatibility with inorganic coagulant.
Product efficacy
1. Clarification and purification effect;
2. Settlement promotion;
3. Promoting effect of filtration;
4, thickening and other effects.
Anionic polyacrylamide
Application field
Can be used in but not limited to the following areas,
- Used for inorganic sludge dewatering, can significantly improve production efficiency, mud cake solid content and reduce the solid content of filtered water;
- Used for filtration, improve the quality of filter water and improve the production efficiency of filter machine;
- Used for concentration or sedimentation, can improve the concentration efficiency, speed up sedimentation, etc.;
- Water clarification, effectively reduce SS value and turbidity of treated water, improve effluent quality;
- used as an additive in some industrial processes.
In the process of sewage treatment, flocculation and precipitation is a wastewater treatment method widely used at home and abroad. It has the characteristics of wide range of adaptation, simple treatment process, easy operation and management, low one-time investment, less energy consumption, and so on. It is taking a brand new look in the field of wastewater treatment. The flocculant is added to the wastewater to make the colloid and suspended particles in the water flocculate into larger flocs, so as to separate from the water and achieve the purpose of water purification.
Flocculants are used to improve the speed and efficiency of sedimentation, clarification, filtration, air flotation, centrifugal separation and other processes. Flocculation is the process by which many individual particles in a suspension form aggregates (floc or alum flower).
Due to the rapid development of flocculation theory, there are many kinds of flocculants, and new products with unique characteristics are constantly emerging. The formulation and naming of flocculants are diverse, and some flocculants are called coagulants, and also called coagulants, coagulants, polyelectrolytes and so on. Although their names vary, they actually refer to the same substance. This means that chemicals are added to the wastewater to produce flocculent precipitation, which facilitates separation by filtration, sedimentation, and buoyancy. So that the waste water purification, so called flocculant is more accurate.
Flocculant can be defined as: generally used to disperse small solute colloid in aqueous solution or suspended particles to flocculent precipitation of the material is called flocculant.
The effect of flocculant for wastewater treatment varies according to the state of raw water being treated. The type, size, concentration and PH of suspended solids in raw water vary according to water quality.
It should be noted that stirring conditions will affect the formation state of floccule; Therefore, in order to obtain results, we need to adjust PH values and stirring conditions. The high molecular weight flocculation aggregates required will vary due to flocculation and sedimentation, pressurized air flotation, sludge dewatering and other treatment purposes.
Mud rapid precipitator is also known as mud precipitator, mud water separator, mud separation precipitator, mud sewage flocculant, it is a kind of organic polymer, can sand, quarry, mine dressing, drilling mud sewage produced by rapid separation and precipitation down, to achieve the purpose of mud water separation, Is a good mud dehydrating agent, is also the mainstream mud precipitation flocculant, unit cost is relatively low.
The performance characteristics of
1, flocculation: PAM can make suspended material through electric neutralization, bridge adsorption, flocculation.
2, adhesion: through mechanical, physical, chemical action, play the role of adhesion.
3, resistance reduction: PAM can effectively reduce fluid friction resistance, adding trace PAM in water can reduce resistance by 50-80%.
4, thickening: PAM in neutral and acid conditions have thickening effect, when the PH value of PAM is more than 10 easy hydrolysis. Thickening will be more pronounced with a semi-reticular structure.
Anionic polyacrylamide
Method of use
The product is prepared into an aqueous solution of 0.05 % ~ 0.20%, and the product is evenly and slowly scattered into the mixing container to avoid clumping and insoluble; General solid products can be used after 30-60 minutes of dissolution time; The solution is added to the sewage or sludge to be treated for stirring and mixing to produce flocculation.