Hot Supply
50% Content of decoloring agent of Dyeing and printing wastewater
2020-06-04 09:22:16
50% Content of decoloring agent of Dyeing and printing wastewater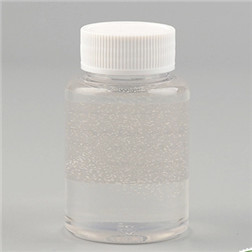 PRODUCT PARAMENTS:
Product Name
High efficient textile auxiliary reduce COD dyeing and printing wastewater decoloring agent 50%
Sort
wastewater decoloring agent/decoloring agent/printing wastewater decoloring agent
Appearance
Colorless to light yellow transparent liquid
Solid content
50±1%
PH value
3-5
Application property
1.This chemical is able to make a good decoloration effect on printing and dyeing wastewater of active and acid dyes.
2.It is able to reduce COD.COD removal rate can reach over 85%.
3.In alkali wastewater,it can make PH value neutral.It is better to be used together with PAC.
Recommended dosage
Before using,dilute it to 10-40 times and add 2-10kg prepared water solution in printing and dyeing wastewater with PH value of 7-10
Packing
200kg per PE Drum

Application of stripping agent:
1: Decoloring agent is used in sludge dewatering.According to sludge characteristics,the corresponding model of stripping agent will be applied, for the purpose of effective sludge dewateringbefore pressure filtration.Larger floc formed in dewatering shall not be stuck with filter cloth, and not dispersed in pressure filtration. Filter cake is thick, dewatering efficiency is high, and cake moisture content is about 80% or less.
2: Decoloring agent is used in the treatment of domestic sewage and organic waste water.Stripping agent showing the electropositivityin acidic or alkaline media plays a role in flocculation and clarification of waste waterwithsuspended particles carrying negative charge.For example, in a variety of waste watertreatment, cationic polyacrylamide is effectivelyseveral or tens times anionic, nonionic polyacrylamide or inorganic salt, because such waste water generally carries negative charge.
3: In the event of flocculation aid in tap water originated from river water, it features less dosage, better effect and lower cost, especially ideal for the combination of inorganic flocculant.
4: In paper making, Decoloring agent, as enhancer or another additive,is used to enhance retention rate of filling material and pigment and paper strength.
5: As oil field aid, such as clay expansion prevention aid, acidification thickening agent.
tag:
50% Content,decoloring agent ,.Dyeing and printing wastewater